How to find outsourcing software development companies?
Table of content
How to start?
Stages of a development team funnel
Industry events and expo
Pre-made lists
Ask around
Or… Google it!
How to start?
Finding a good outsourcing company or a freelancer to do software development for you may be very tiresome and is definitely not an easy thing to do when you have no idea how to get down to it. The whole process or choosing a single candidate often takes up to a few weeks/months work so it is highly important that it is done right. In a big shortcut, you should start with creating a so-called long list of candidates which later on narrow to a short list by analyzing a few more factors. Getting there, you re truly close to picking the right candidate for you. Let' have a look at it.
Stages of a development team funnel:
Stage 1:
A good initial research is vital for creating the already mentioned long list of software development outsourcing companies. It usually consists of about 10 to 15 positions -top software teams that match your general requirements and expectations. These may include tech stack, web/mobile specialization, geographical location, hourly rate, the size of their crew/company and more. Remember: if you need som eone that specializes in React Native/UX UI design/agile software development/cost-effective big data services then go only for development teams that have proven experience and/or quality assurance in these fields of outsourced software.
Stage 2:
Once you gather your possible custom software development partners together it is time for you to contact them and start the process of narrowing your choices down to the short list of approximately 3 positions. You may want to cross out all the software development companies that do not get back to you within the first 5 working days straight away. The other categories helpful in shortening your list are the quality and time of their reply, years of experience, their portfolio/presentation or a tiny trial project that they could work on to show off their skills.
I'd say that the perfect short list consists of only the candidates that you would not be 'scared' or 'worried' to hire, the best and the most suitable nominees for you that are within the draw or a close tie-on-race. In the final step, you simply need to pick the best software development company of them all.
Stage 3:
Once you get in contact with them all and verify all your selections you can make a choice of the one custom software development company which will work with you. This, still being put in some very simple words, of course, is a funnel model of finding the best software development company.
No matter if one needs some tiny web design, UI UX design or a gigantic complex app for a few operating systems it is essential to find a reliable development partner to take care of it. This is when the funnel model proves vital as it is the most efficient and reliable way to do so.
Thanks to the internet era, it is very easy to quickly make even a very long list. But ask yourself if no-name websites that you have never heard of before or self-appointed 'best software development company for mobile apps of 2020' are a reliable source of information. However, following the guidelines, lists and sources provided in this article, you will be able to find answers to where exactly on the internet (but not only!) you will find the most reputable development teams or the best outsourcing software development companies for your project.
This platform offers you a very wide scope of impartial and reliable information on companies from the fields such as Advertising & Marketing, Web & Software Development, Mobile App Development and IT Services & Solutions. Each profile available on this website is selected and checked according to many factors, such as client references, detailed submission forms, portfolio and many more. This is a place where you can find only unbiased in-depth reviews of the earlier verified companies, which nowadays is not that easy.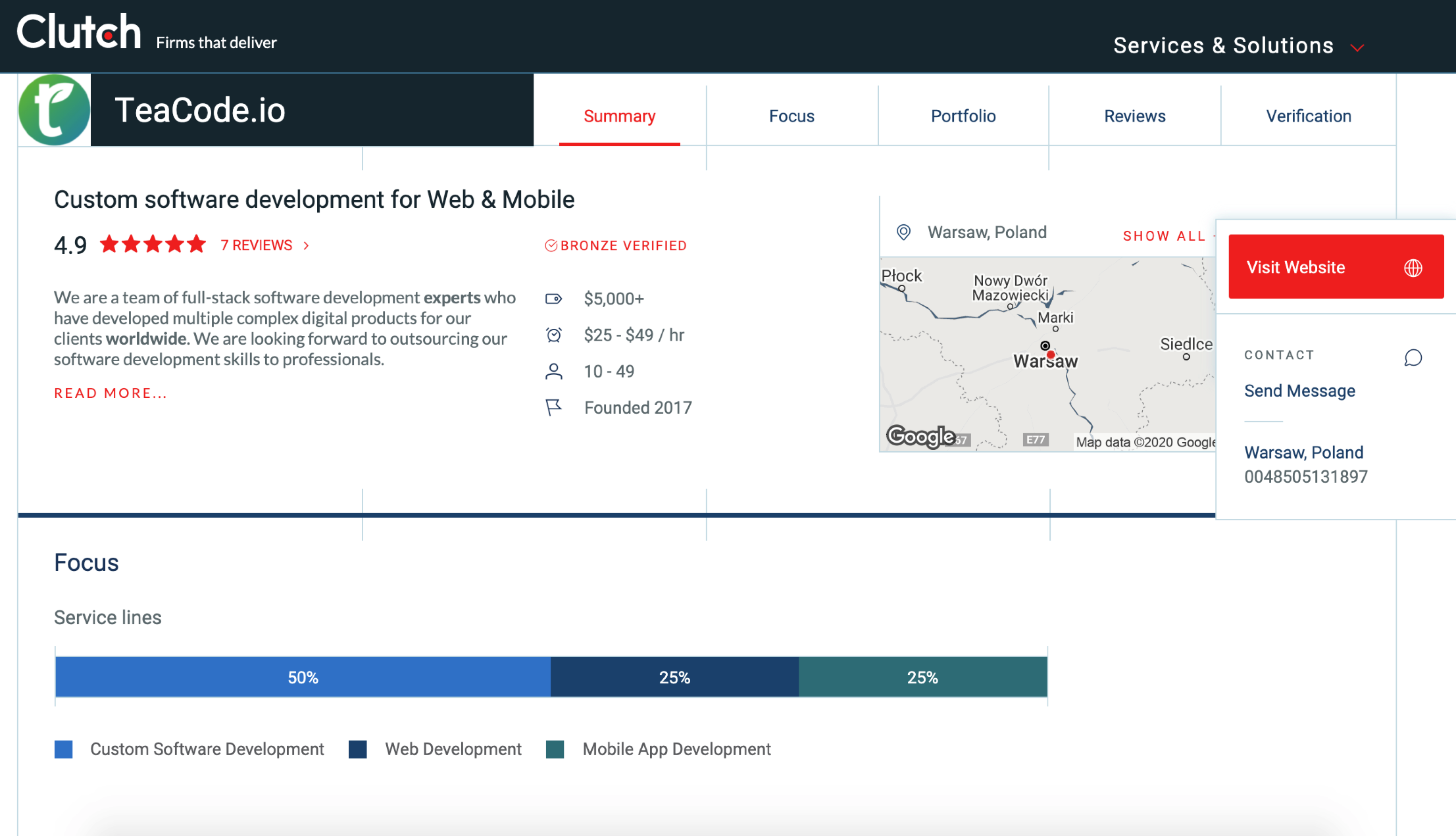 Visiting software development companies' profiles you are provided with lots of detailed information such as the hourly rate, number of employees, general rate, minimal project cost and more. Scrolling down you get to other sections that are called Focus, Portfolio, Reviews and Verifications. This is rather self-explanatory and combined with a clear layout makes it easy to find what you are looking for.
Within the Clutch browser, you can also use a few very convenient filters, such as geolocation, reviews rate or simply look through a particular category.
LinkedIn, is a much broader networking platform with possibly somewhat less adequate and neutral information than Clutch but it is still worth checking out. It is open for companies of any field, their workers, CTOs, businessmen and many more.
LinkedIn provides you mainly with the information people decide to share with you so it does not feel as safe as in Clutch's case, however, it is still a very popular platform.
In their browser, simply type in what you are looking for and choose in options to search among companies. Remember, the more specific you are the fewer search results you get and the more accurate they are.
Each profile has a main board much alike Facebook, on which the content creators are more or less active. But actually, what should interest you the most is probably their About page. There you can read an overview and find out the company's size, exact industry, location, specialization, follow the link to their website and more. Their LinkedIn profile also allows you to check their years of experience, software products and global clients (if one claims to be an enterprise software development company working across the globe it's really important to do a background check on that).
Industry events and expo
This is a good option if you would like to talk to the CTO or employees of the company in person. It is always easier to bond and communicate with each other.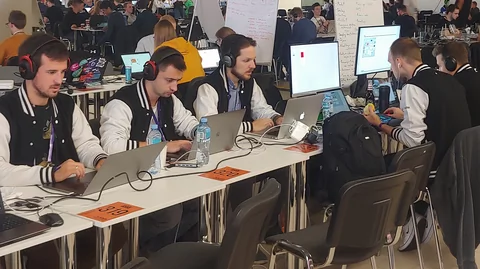 This face-to-face solution has one major drawback, though. The number of companies that actually decide to secure a place on conferences like that is relatively small. It is because a) it's usually very expensive, b) they have their projects to work on, c) they are based in different city or country.
Also, such events usually do not happen often so it is not that easy to attend them on your side either. However, if you get a chance to do so, don't hesitate! It is a great source of information and who knows, maybe you will find what you are looking for.
Pre-made lists
This is also another way to find software development companies. The question is how impartial such a ranking truly is. It is always hard to tell if the author of 10 trusted software companies of 2020 was paid to show particular unities in a good light or not. This is why one should use only curated lists provided by reliable sources, well known solid, firm and trustworthy websites or authors. This is the kind of quality assurance of around the world or offshore software development and cost savings coming with it that you need.
Another point worth mentioning is that most of these lists will mention big or well-known top software companies. This may come together with the fact that hiring such an entity may often equal a bigger price or lesser availability. Sometimes it is good to rely on a smaller business to be your outsourcing partner that will provide you with the same service quality.
The pre-made lists are, of course, a great time-saving solution that allows you to skip one of the early steps of your research. They usually provide you with a short description and analysis of particular software development companies making it even easier for you.
Some good examples of such sources are:
Please note that some of the services we have already talked about do the very same thing via their filters and advanced search tools – Top Software Developers in Poland – 2020 Reviews and we can be more than sure that they know what they are doing.
Ask around
This seems so obvious but not many people actually do it. Is there anything better than a software development company that is recommended to you by people from your industry? Did one of your friends complete a web app or a UI design with a particular software outsourcing company and is happy with their development services? You can be sure that they are reliable and know how to suit your needs or work with your content (that's what custom in custom software development company stands for). You can see their real-life portfolio which may be in the form of a project similar to yours. Moreover, you get a first-hand review and can ask questions straight to their employer. It is, to a big extent, way easier to do a background investigation in this case.
Or… Google it!
Last but not least we wanted to mention internet browsers. Googling something is one of the most popular options and typing 'outsourcing software companies in Warsaw' will give you many great results of mobile and web software companies based on the exact geographical location etc. You can jump straight to their website or choose directions if you wish to show up there in person 🙂
Of course, googling different things will lead you to some of the already mentioned above websites and that's the beauty of the internet and digital marketing.
A proper research takes a lot of time and may be a rather tedious task, but having all the mentioned platforms and solutions in mind you should find it way easier and, more importantly, feel more confident about your choice. It is really important that you find a trustworthy company or a freelancer to outsource for you as having to re-code the whole project or pass it to someone else when the chosen candidate fails may turn out not only more troublesome but also way more expensive. Why not be cost effective with your outsourced software and get your mobile apps or web app, UX UI and the whole design and development from one great development partner?