How to Create a Restaurant App? |
A

Guide to Restaurant App Development
In today's competitive food industry, where nearly 750,000 restaurants are vying for customers in the US alone (Zippia), standing out from the crowd is crucial for success. As a restaurant owner, expanding your reach to both locals and tourists is a priority, and a restaurant app can be the game-changing tool you need.
With 63% of consumers preferring to order directly from a restaurant's mobile app rather than third-party platforms (Sense360) and 67% of US consumers favouring restaurant apps or websites for delivery (Statista), it is evident that having your own app gives you a competitive edge.
Not only does it allow you to stay one step ahead of your competitors (because still, not many restaurants have their own app or even a website), but it also opens up a world of opportunities to attract new customers and enhance the experience for existing ones.
Even if your intention is to develop a white-label restaurant app and you don't personally own a restaurant, it's essential to grasp the perspective of restaurant owners to effectively cater to their needs and goals. In this article, regardless of your goal, I'll offer invaluable insights that will enable you to adopt the right perspective.
So if you want to take your restaurant business to a new level, investing in your own app is an important step towards achieving this goal. In this article, you'll find all you need to know about creating your own restaurant application for you or for restaurateurs.
Why Your Restaurant Needs an App – Importance of Restaurant App Today
In today's world, having a strong online presence is essential for any business, including restaurants. Almost everyone (97% of American adults, according to PewResearch Center) owns a cellphone these days. People spend a lot of time on their phones, around 4 hours and 30 minutes daily, and that's expected to increase even more in the coming years (Statista).
Without a restaurant app, you could miss out on reaching a big chunk of potential customers. A restaurant app can help you connect with people easily, whether they live nearby or are visiting. It lets them see your menu, find special deals, or order food online without any hassle. By having an app, you can make your customers happier and attract more people to your restaurant. It's especially beneficial when you have more than one location.
So, having a mobile app is a smart move if you want to succeed in the competitive restaurant business.
Gastro Tourism and Restaurant Apps
Have you ever heard of gastro tourism? Drinking an espresso in an Italian cafe, eating a croissant under the Eiffel Tower or eating dumplings in a Polish restaurant just feels different than eating it at your own house, right? It's all about experiencing food culture in a particular country.
Your app can make it easier for tourists to find and come to your place. There are still not many restaurant apps on the market, and you can use this fact to your advantage. Many restaurants use third-party solutions like UberEats delivery app, but the statistics show that people don't want to pay commissions to other businesses for their food.
As I mentioned earlier, nearly two-thirds (63%) of consumers prefer placing their orders directly through a restaurant's mobile app instead of using third-party platforms. So why not give people what they want while also gaining benefits from it?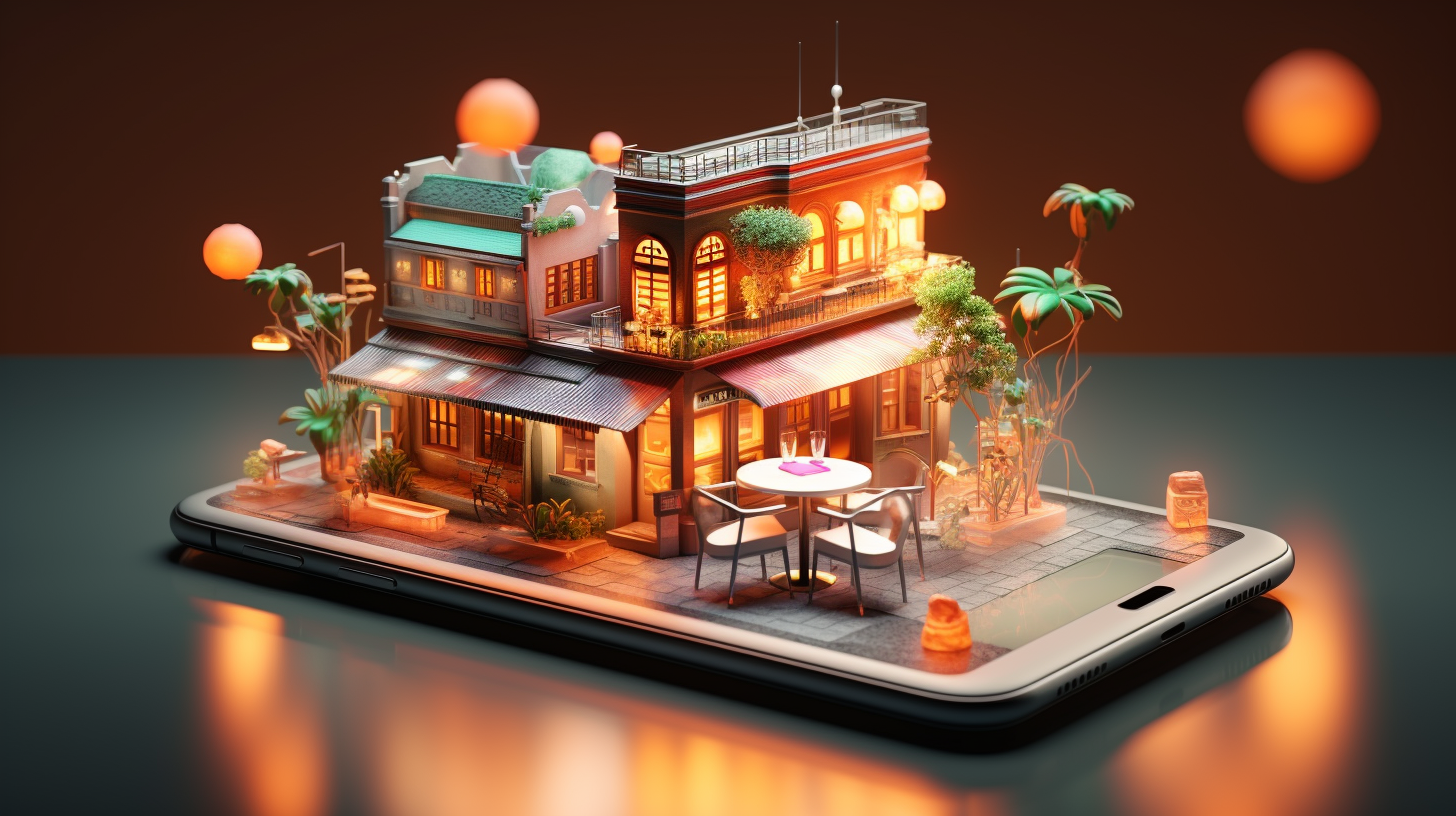 Is It Better to Create a Restaurant Mobile App Than a Restaurant Website?
You can have a website with a responsive design (an approach that ensures that web pages look and function well on different devices and screen sizes, providing a seamless user experience), but it still may not be enough. Some users may find it hard to navigate your website on their mobile devices as websites load content slower than mobile apps.
On the other hand, if you create a restaurant app for Android or iOS (or choose a cross-platform solution that works on both), you can take advantage of the amazing features that mobile devices offer.
Unlike websites that depend on web servers for data, mobile apps store data right on the devices. This makes it faster and more efficient to get the information the user may need at the moment.
Benefits of Creating Your Own Restaurant App
With the statistics in mind, you probably already have an idea of how a restaurant app can bring numerous benefits. Let's delve into some of the main advantages it offers.
Understand Your Audience Better
Knowing your customers and catering to their preferences is vital for success in the restaurant industry. If your service doesn't align with what they want or if their needs go unmet, it's easy to lose valuable clientele. This is where having a restaurant app can become a helpful asset.
By incorporating analytics tools and tracking user interactions within the app, you can gain insights into customers' behaviours and make more data-driven decisions. You can identify which menu items are the most popular, and see peak order times or preferred payment methods. This information allows you to tailor the offer to customer preferences, implement personalised promotions and improve the overall user experience.
In addition, observing user behaviours helps identify pain points or areas where customers may encounter difficulties. For example, if there are issues or complaints about slow response times during the ordering process, you can quickly respond to these issues and optimise the app's performance.
Increase Customer Loyalty
In addition to attracting new people, it's equally essential to take care of loyal customers. With the help of loyalty programs, you can offer them personalised discounts, making their experience even more rewarding.
By incorporating these exclusive benefits into your mobile app, customers won't need to ask for discounts at the counter, streamlining the process and ensuring a smoother checkout experience. This not only boosts sales but also encourages them to return more frequently, fostering a sense of attachment to your restaurant. As a result, customer loyalty increases even more, which affects both customer satisfaction and repeat transactions.
Have Better Customer Service
Restaurant apps indeed revolutionise the customer experience by eliminating the need to wait in long lines. With quicker service and a streamlined ordering process, customers can enjoy more their dining experience.
The Starbucks app is an excellent example of how restaurant apps can enhance users' convenience. It provides a seamless way to order and pay for their drinks and snacks. You can easily customise and place an order in advance from your phone, then pick it up from a store at a designated area and choose the contactless digital payment in the store. Statistics from 2019 reveal that one of the main reasons American users used the Starbucks app was to order ahead (Statista). Moreover, the ability to create personalised favourites sections and easily reorder previous items adds to the app's user-friendliness.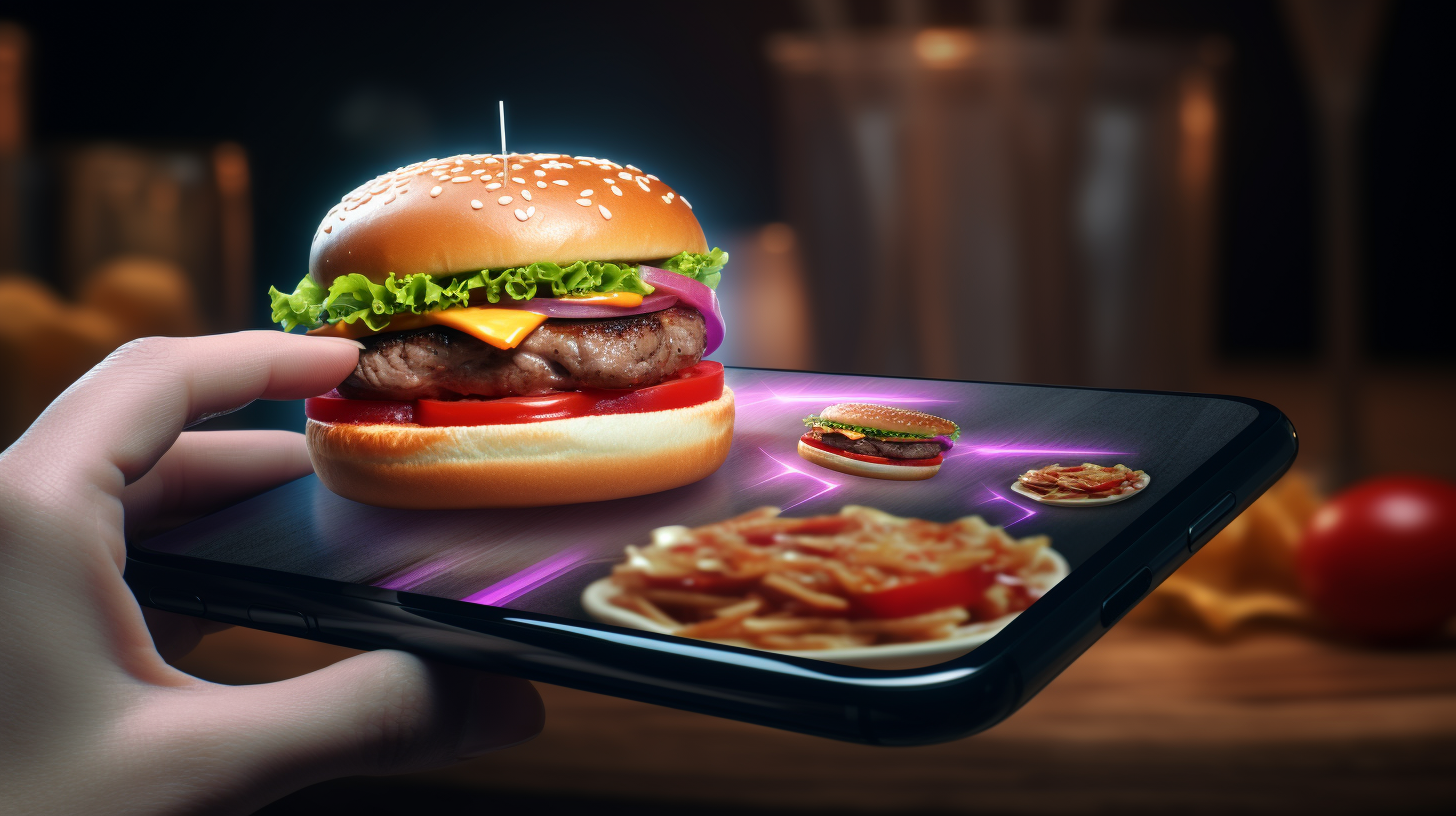 Gain Customer Feedback
To gain valuable customer feedback, your restaurant app can offer your customers an opportunity to leave reviews or share their opinions about the place and the menu you offer (directly within the app or on app stores). You can use the standard push notifications feature to collect opinions from your users. This will not only help you identify areas for improvement but also encourage and remind customers to conveniently express their opinions.
In addition to reviews, you can use surveys to collect valuable information about customer experiences with the service, food or the app itself. This feedback loop allows you to make informed decisions and continuously improve your offerings based on customer preferences.
Moreover, by enabling your customers a place to leave suggestions and share their ideas, you give them a sense of involvement and responsibility for shaping the restaurant's offers and services!
Communicate With Clients (Even When They're Not Looking For Food)
You can stay connected with your customers long after their visit to your restaurant, thanks to exciting features like e.g. sharing restaurant recipes, backstage insights and culinary tips.
With these engaging elements integrated into your restaurant app, you can keep customers interested and involved even when they're not physically at your restaurant. By offering unique recipes from your kitchen and sharing intriguing culinary facts and hints, you provide added value to their dining experience.
This continuous connection builds a stronger bond between your restaurant and its clients, encouraging them to return and explore more of what your app and restaurant have to offer. Beyond being a mere ordering platform, your app becomes a delightful source of inspiration and entertainment for all food enthusiasts. Therefore, they're willing to get back to it and engage!
Features Worth Implementing into Your Restaurant Mobile App
It doesn't matter whether you're the proud owner of a charming Italian restaurant known for its homemade pasta, pizzas, and welcoming atmosphere or a businessman who is eager to build a restaurant white-label solution and resell it to other restaurant businesses.
In both cases, knowing your audience well and understanding their needs is needed to build a great app. Only then you will be able to consciously choose features that will solve end-clients' issues and provide them with the best customer experience possible. That's why, don't try to implement all the features to satisfy everyone, but focus on your casual clients and the problems they have.
Interactive Menu
One of the popular features of your restaurant app is an interactive menu. Upon entering the restaurant, you can offer your customers the option to scan a QR code, allowing them to download your restaurant mobile app and easily navigate through interactive menu screens. For example, clicking on a specific dish could reveal a list of allergens or nutritional components or you can allow them to indicate in their profile what they don't like or can't eat, and then exclude those dished from their menu offering. Alternatively, consider replacing dish photos with brief videos. Or, you might explore the possibility of customising dishes according to individual preferences!
By offering this functionality, customers can easily scan the menu in advance or immediately upon arriving at the restaurant, allowing them to effortlessly place their orders directly from their mobile devices. Not only does this enhance the overall dining experience for your clients, but it also provides you with valuable insights into customer behaviour. You can observe what catches their attention when choosing dishes, what information they seek, and if any crucial details are missing from the menu.
Moreover, how about making an augmented reality menu? This way, your dishes will be presented in 3D! So they won't be flat pictures on a paper anymore but a modern virtual offer! Check out this video showcasing the menu created using augmented reality. It will give you a clearer understanding of what I'm referring to.
Filtering Food Ingredients
Picture this scenario: a customer walks in, takes a seat, and informs you about their gluten allergy, asking if you have any gluten-free options. Naturally, besides offering your gluten-free dishes, you could suggest that they might download your restaurant app for easy filtering of all menu choices, with a detailed list of ingredients for each dish. Or you can suggest what to choose (or what to omit) based on their food preferences!
But why stop there? You can go even further with filtering options. Let's say your restaurant app targets fitness influencers or athletes who care about their calorie intake. Providing them with detailed nutritional information will be a game-changer and attract them to your restaurant for a nourishing and fulfilling dining experience. Who knows, maybe they will be delighted and tell their followers about your place? That sounds like an amazing opportunity!
Table Reservations
Some of your customers may want to book a table in advance. You could provide them with advanced features like Virtual Tours of your restaurant, allowing customers to choose the table based on their preferences – whether they prefer a window seat or a cosy corner. Or you can offer a basic option: simply allowing them to choose the number of guests and desired time. Depending on your budget and customer needs, you can determine what kind of features would have the most value.
Moreover, allowing customers to book a table in advance means there is no need for phone calls that many people avoid, and your customers don't need to spend time in the waiting line. They can easily book a table with a few types on their smartphones.
Take inspiration from OpenTable, the widely used global table booking app. OpenTable has an extensive restaurant database and allows users to easily manage table reservations for various occasions. While your application may not necessarily offer the same scope as OpenTable, getting to know their approach can certainly provide valuable insights for improving your own restaurant app.
Online Food Ordering
The pandemic has resulted in an increasing amount of food delivery apps similar to UberEats. Many restaurant apps have also introduced such features in their apps.
Most of us probably have used food delivery services at least once in a lifetime. They save our time, making it easy to eat a delicious meal from the comfort of our own house. Statistics speak for themselves: 63% of people say it's more convenient to deliver a takeaway than dine out (PhillyVoice).
So apart from a casual dine-in experience, it's worth adding takeaway options to your app. This is what Domino's Pizza App has done and even taken a step further – they allow their users to schedule an order in advance at their convenience.
Online food ordering will allow busy customers to quickly satisfy their hunger, and you to earn more and improve your restaurant business. You can also gain partnerships with local transportation companies that can deliver your dished straight to their houses without the need to hire your own driver!
And if you are wondering how to create a food ordering app like UberEats (but make it unique on the market), you will find all the insights and strategies you need in our article about food delivery apps.
Behind

-The-Scenes Videos

A unique feature that would allow your customers to remember your restaurant app for longer would be behind-the-scenes videos satisfying their curiosity. Many of us wonder how our meals are actually prepared, whether eco ingredients are used, whether employees prioritise workplace hygiene, or if the kitchen is protected against allergens (e.g., in the case of gluten-free restaurants).

Imagine if you offered your customers a glimpse behind the scenes. For example, during meal preparation, customers could receive videos showing how their food is being prepared, recorded by your staff in advance. This would undoubtedly satisfy their curiosity and present you as a transparent restaurant owner who has nothing to hide. It would also add an element of surprise to the daily routine – just imagine how they would be surprised if a waiter brought their plate exactly when the video ended. That's perfect timing!
Knowledge Base
To build lasting connections with restaurant guests, offer them something more than just a pleasant visit and delicious food. Imagine providing them with a knowledge base of your recipes, sending weekly messages recommending specific ingredients you use in your kitchen or certain cooking techniques.
By doing so, you nurture a meaningful relationship with your customers, fostering loyalty and making them feel engaged with your restaurant on a deeper level. It can be especially helpful to engage with tourists who may leave your location in a few days. This way, regardless of whether someone is a regular customer or visits your restaurant once every few years, your app becomes a valuable resource. And who knows, they may go back home and spread the word about your app to their closest ones too!
Push Notifications
By sending personalised push notifications, you can keep your customers informed and engaged, encouraging them to explore more of what your restaurant has to offer.
You can further enhance the gastro tourism experience and send push notifications to users about testing sessions, cooking classes or other events that happen at your restaurant.
Loyalty Programs
Give your restaurant app's users something special, like a -20% discount for cooking workshops, a coupon for a free drink or a birthday gift. They deserve something in return for using your app, so show them that their loyalty is valued and appreciated.
Get inspired by the Starbucks App. For each purchase made with the Starbucks App, the user gets "stars" that later on can be redeemed for rewards, such as a free drink.
These special perks can keep your customers engaged, keep them coming back for more, and spread the word about your app, increasing your app's popularity and success.
Location Tracking
If users allow for location tracking, you could send them personalised push notifications with tailored offers and discounts when they are close to your restaurant area. These individuals could then proceed to place their orders online, and with the staff knowing their exact location (thanks to proper internal notifications), they could begin preparing the order to make it ready when they come.
A similar solution has been recently implemented by one of the fast-food giants. McDonald's has just introduced a geofencing feature to its app to track when app users approach their restaurants. With this information, McDonald's can start getting orders ready as customers get closer. Although the feature is quite new, it already has had positive results. CFO Ian Borden says it already has minimised wait times and ensured the food is hot and fresh upon arrival (Business Insider).
Gamification Feature
By incorporating gamification, you create a unique and engaging app experience that keeps customers entertained and coming back for more.
For example, you could encourage customers to collect rewards for making 3 orders within a week, turning their dining experience into an exciting challenge. Or, how about spicing it up by offering a roulette feature that will help them choose a drink to accompany their meal for half of the price? It's a playful twist that adds an element of surprise and enjoyment to the dining process, allowing them to taste something they would otherwise not decide to.
Personalization
Everyone desires to be treated uniquely like they are the only customers. App personalization is the key to make your customers feel like that.
By harnessing the power of Artificial Intelligence and Machine Learning, your restaurant app can delve into users' behaviours, preferences, and past interactions. With this valuable knowledge, you can craft personalized suggestions and recommendations, offering each user a tailored experience.
Management
A restaurant management app feature can be significantly helpful for running a profitable business as an owner or manager. Building your own custom app, you can build literally what you imagine (and need).
You can effortlessly track and manage crucial aspects of your restaurant, such as inventory, orders, and payrolls. By having all the essential information at your fingertips, you gain valuable insights that allow you to make data-driven decisions, optimise processes, and reduce waste.
Digital Wallet & Mobile Payments
The restaurant payment app feature is a game-changer, allowing users to not only place their orders but also conveniently make online payments through the app.
A great example is the Starbucks App (again!), which has seen remarkable success with its mobile payment feature. In fact, for a significant period, Starbucks had the most mobile payment users in the United States. While Apple has recently surpassed Starbucks with over 40 million mobile payment users, Starbucks still hold an impressive user base of over 30 million (Indigo 9 Digital).
Dining or Interesting Locations Nearby
If you own a chain of restaurants and have your places in different locations, this feature can prove immensely beneficial for your loyal clients as they explore new cities while searching for your establishments. Your app can display a map with your dining locations nearby on an interactive map, with working hours, or short description/menu screens. This way, customers can easily find and explore all your branches for a more convenient dining experience.
You can also improve the maps by adding interesting nearby places, giving your users even more value. Why not consider partnering with local attractions to offer your users special discounts? This will not only increase your revenue but also make your app a fantastic companion for your customers during their travels.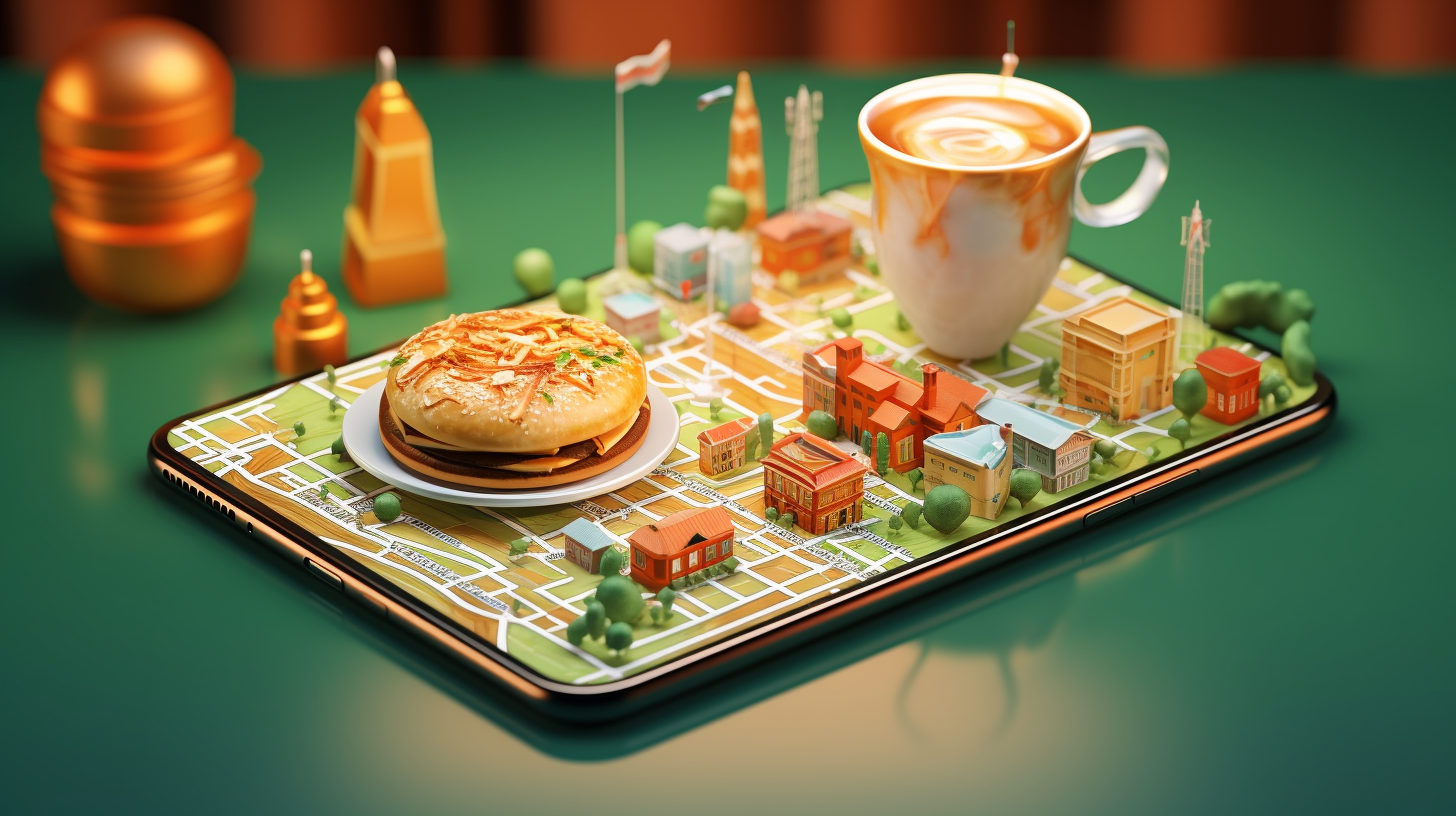 Social Feature
How about incorporating social features into your app to connect people and foster a vibrant community of food lovers? You could create a restaurant app with a discussion forum right within your application, enabling users to share their restaurant recommendations, exchange culinary tips, and even discuss their favourite dishes.
This way, your restaurant (or even meal-ordering) app could become a trusted advisor, encourage others to try your delicious dishes and allow users to build communities with similar tastes.
Social Media Integration
Having user consent, you can think about integrating your restaurant app with their social media accounts. It provides you with valuable insights into their behaviour and preferences on those platforms, allowing you to send them highly personalised offers and suggestions.
Moreover, you can take it a step further by offering custom social media filters. By doing so, you not only encourage users to share their experiences but also build a strong brand identity. This way, your app becomes a powerful tool for engagement and promotion, connecting with users on a more personal level and strengthening your restaurant's online presence.
You can make the most of social media to bring valuable content into your app! Imagine showing posts and pictures from social media platforms that mention your brand directly in your app. It's like having all the content in one place – your place! Sounds great, right?
Chatbots
If you care about real-time assistance and want to provide your customers with 24/7 personal assistance, consider implementing AI-driven chatbots within your restaurant app. Chatbots are excellent at answering questions and simulating human interactions.
If you provide such a bot with all information necessary, it can become a companion for your clients that will address all the questions in no time. Instead of waiting in line or making phone calls, your clients can effortlessly receive responses within seconds from the chatbot on your app.
Is It a Good Idea to Use a No-Code Restaurant App Builder?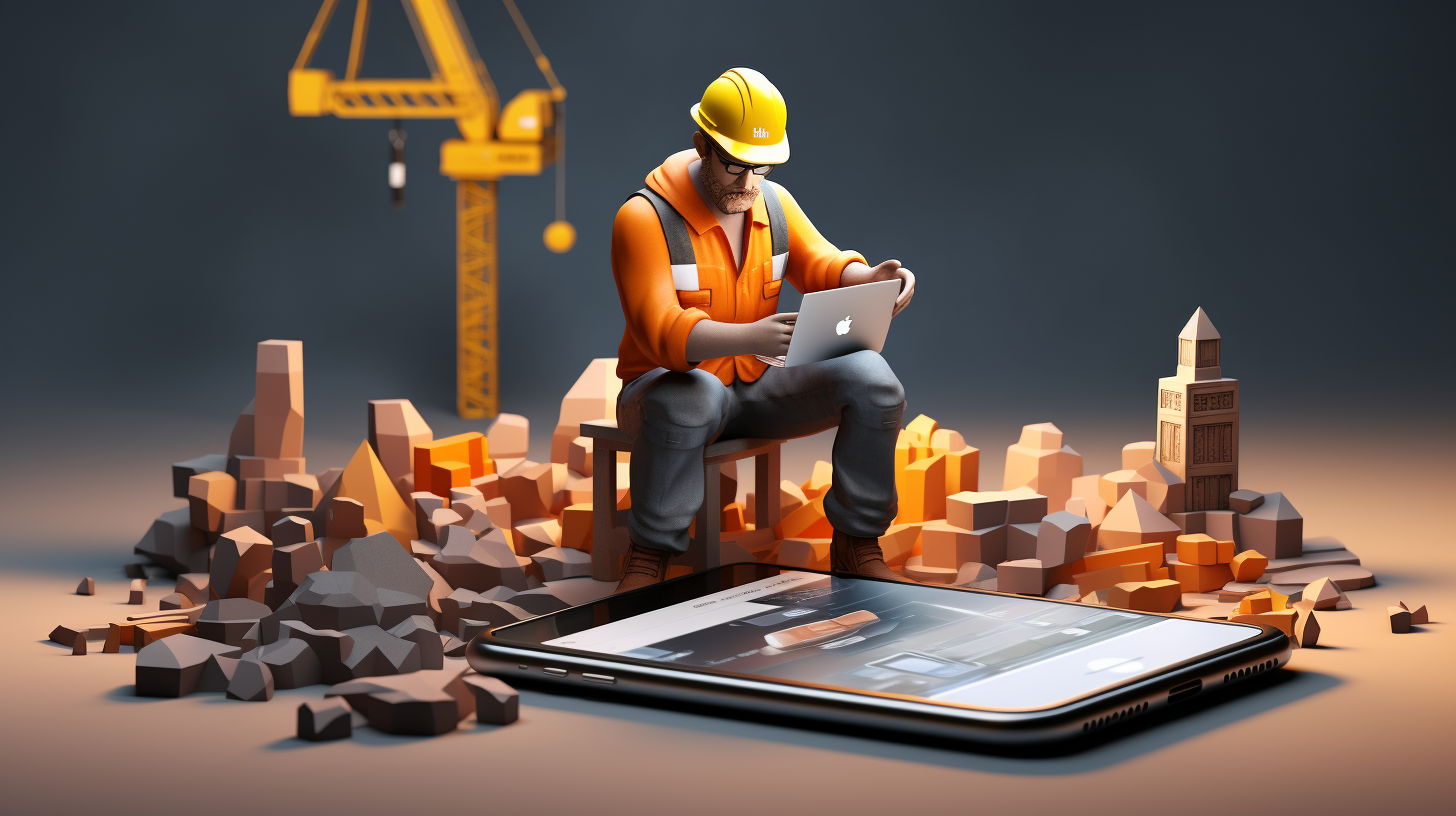 No-code restaurant app development services have become very popular because they allow anyone to create a restaurant app even without programming skills. It's also cost-effective. However, it's important to note that these no-code platforms have certain functional limitations. While you can easily create a basic app using them, they might not be able to make the majority of advanced, customised features that I mentioned earlier (at least not without coding!).
There are also companies that specialise in making apps using no-code tools. The only catch is, these companies might not have all the necessary knowledge of the restaurant world. As a result, even when collaborating with an external company, you might still need to independently decide which features the app should include and how it should be structured.
Choosing Between a Custom Restaurant App and White-Label App Development: Which Is the Better Option?
When deciding between a custom-made restaurant app and a white-label solution, there are significant factors to consider. Both choices have their pros and cons, and it's good to think about them before you make a decision.
Custom app development solutions may be a better fit as they are tailored specifically to your needs, while white-label apps are built upon the experience and requirements of numerous restaurants similar to yours. Both of them may prove to be more financially beneficial, offering a higher return on investment compared to a basic no-code app.
White-Label Solutions
If you're just starting or don't have a significant budget, white-label solutions often come out on top in this scenario. These are applications created for the purpose of being provided to other businesses. They are ready-made solutions that can be relatively easily customised to align with your unique industry needs and market demands. By opting for a white-label app, you have a reasonable assurance that it has essential functionalities needed in the restaurant industry. Given its wide usage across various businesses, it has been well-tested and can be further developed.
The downside, however, is that it won't deliver a unique brand identity. While these apps typically allow for colour and logo customisation, the overall layout remains quite similar. The problem escalates when multiple businesses use the same white-label app, making it challenging to stand out and distinguish your brand.
Furthermore, if you have a great feature idea, everyone using the same white-label app might get it once developed, so it's not just yours anymore. It's basically giving away a valuable concept for free to the app owner and sharing a competitive advantage (generated by a unique feature) with every other business that uses the app.
While individual monthly fees might not be substantial, they can add up to a significant sum. This might also depend on the payment model, but it could go beyond the total cost of developing and maintaining your custom app. You also lack control over when maintenance is conducted and whether the app is functioning optimally.
But if you are going to make your own white-label restaurant app and sell it to other businesses, I recommend you to read my other article about creating white-label apps. There you will find answers to questions about the pros and cons of creating white-label applications and hints about the white-label software development process and development services.
Custom Restaurant App
Consequently, if your goal is uniqueness, especially if you have a significant customer base, I recommend investing in custom software development. While this involves a higher upfront cost for building a restaurant app from scratch, the app becomes entirely yours – including your ideas and profits. Moreover, your app is customised, offering the possibility to incorporate all the abovementioned feature ideas and numerous others that might be on your mind.
With a unique, custom app, you establish a strong brand identity, foster loyalty, and build trust. You gain control over the scalability, performance, and reliability of the application, potentially leading to a quicker return on investment than expected. Of course, you don't have to invest a lot of money at the beginning. You can start small and budget-friendly by building a Minimum Viable Product (MVP) – more about it in a sec!
Another benefit of custom app development is that once battle-tested, it can be offered to other businesses as a white-label app. That would need a slight functionality extension but can become an additional source of revenue. Who knows, maybe you'll develop a white-label app that allows multiple businesses to customise their apps in the slightest detail to make them perfectly unique?
Restaurant App Development Process
If you want to build a successful restaurant app and stay ahead of the trends, you must create something that stands out in the market or revolutionises it. That's why the process of developing a custom restaurant app should be carefully thought out to ensure your success in the restaurant industry.
By taking this approach, you can create a unique and innovative app that sets you apart from the competition and captures the attention of your target audience. So, be strategic in crafting your custom app, and you will achieve success in the competitive restaurant market.
If you're interested in getting a deeper understanding of the software development process and want to learn about each specific stage in more detail, I suggest checking out my article. In it, I dive into the specifics of every step involved in app development.
Start With an MVP
The Minimum Viable Product (MVP) is a method to validate assumptions and test the demand for a new product with minimal investment. Many people mistakenly assume that an MVP must be a simplified version of the product. However, when starting, you can consider various types of MVPs, such as landing pages, videos, or social media posts, to try if your idea is worth investing time and money.
In my other article, I delve into the concept of MVP in greater detail, providing examples and explaining why an MVP is crucial when creating any kind of app.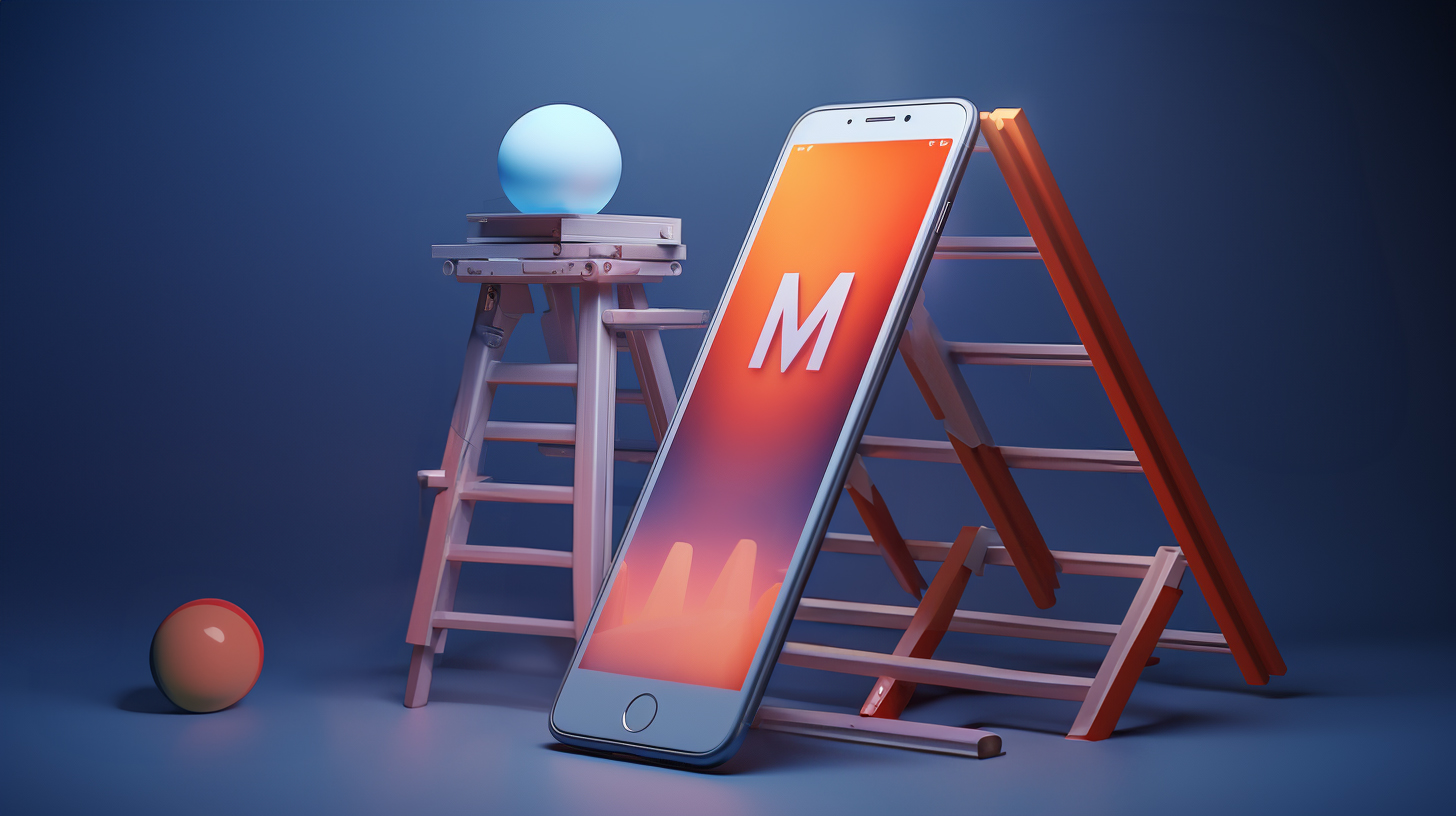 How to Define The Target Audience Right?
To properly define the target audience for your restaurant app, it is essential to understand their needs and preferences. To ensure your restaurant app's success on the market, you can't just assume your app is "for everyone". Start by asking yourself: "Who will benefit most from my app's special offers?"
Observe people in your restaurant, paying attention to their preferences, behaviours and needs. Engage in conversations with existing customers (they are potential users of your app) and even try to conduct surveys to gather valuable information.
Consider factors such as age, demographics, lifestyle and food preferences. Do you target young people who are looking for fast and convenient dining options? Or families who are looking for child-friendly restaurants with small portions on the menu? Or maybe tourists who are eager to discover the local cuisine?
Once you have a clear idea of your ideal audience, customise the features, design and content of your app to match their desires and meet their needs.
Remember that a well-defined target audience will not only help you create a focused and influential restaurant app but will also enable you to build a strong connection with your users, ensuring long-term success in the competitive restaurant industry.
Cooperate With The Right Partner
Collaborating with the right partner is a crucial step in your software development journey. But first, you'll need to decide on the outsourcing model, whether it's onshore, nearshore or offshore. Understanding the differences between these models is essential in making the right choice for your specific needs. We explain them in our article about outsourcing models, providing you with the pros and cons of all of them.
Then you can move on and choose a software partner. While freelancers can be a viable option, a more reliable choice often lies in a software development company. These companies consist of a team of highly skilled and experienced professionals who can deliver exceptional results for your project. However, if you struggle to choose between a freelancer and a software development company, we've prepared an insightful article to guide you through the decision-making process.
Moreover, to make informed decisions and maximise benefits when outsourcing your software development, check Mike's comprehensive guidance on outsourcing software projects.
<baner?>
How to Choose The Best Tech Stack For Your Own Restaurant App?
As you plan to create a restaurant app, you may wonder which devices to focus on – iOS, Android, or both?
If your primary goal is to have a mobile app that works seamlessly on both iOS and Android devices, cross-platform app development can be a great solution. It allows you to build a single app that functions well on multiple platforms, saving time and resources.
However, if you have a specific target audience in mind, and your app target exclusively either iOS or Android users, you may consider native app development. This approach eliminates some of the limitations associated with cross-platform development, offering a more tailored and optimised user experience.
For a comprehensive understanding of the benefits and drawbacks of both native and cross-platform app development, I recommend checking out Robert's article. It compares the two approaches, providing valuable insights to help you make an informed decision that aligns perfectly with your restaurant app's goals.
Tips on How to Decide on UX/UI Design
When deciding on the UX/UI design for your restaurant app, there are some valuable tips to keep in mind. Firstly, as I mentioned earlier, adjust the design to your target audience and their specific preferences. To do that, you need to understand their behaviours to create an experience that truly resonates with them.
Secondly, prioritise user experience (UX) above all else. Ensure that your app is intuitive, easy to navigate, and offers a seamless flow for users to accomplish their tasks without distractions. The better the User Experience, the more probable that your app will succeed.
While designing, also keep in mind your budget and find creative solutions to achieve an impressive interface design and user experience without overspending. Moreover, maintain cohesive branding throughout your restaurant app, using your brand colours, logo, and style elements to create a familiar and memorable experience for users.
Lastly, test your design with real users and gather feedback. Iteration based on insights gained will continually improve and optimise your restaurant app.
How to Market Your App Pre- and Post-Launch?
Marketing your app effectively both before and after its launch is crucial to gain traction and success in the restaurant industry. To help you navigate this process, here are some key strategies to implement and maximise the app's potential in reaching your target audience and driving customer engagement:
Promote In-Restaurant
If you're targeting your restaurant customers, the best place to promote your app is obviously your local. Offer QR codes or posters with download instructions, and encourage restaurant staff to promote the app to customers. But remember, people won't download your restaurant app just for the sake of it, and you need to offer them something as a reward, e.g. a welcoming discount.
Landing Page and Incentives
It also might be reasonable to create a compelling landing page for your app that highlights its key features and benefits. Also, try offering exclusive incentives like discounts or special offers for early app adopters.
Events
Use local events to create interest and anticipation for your app. Host launch parties, food tastings, or special promotions to attract attention and get people excited about your restaurant app.
Social Media
Take advantage of the popularity of social media platforms. Encourage users to take and share food photos, tagging your restaurant and app's location. User-generated content can be a powerful tool for promotion, and it costs you nothing!
Influencers
You can think about collaborating with influencers and food bloggers who have a significant following. Their recommendations and reviews can greatly influence potential users to download and try your app.
Create a Demo/Promo Video
With the growing popularity of video content, it would be a pity not to create an engaging promotional video for your restaurant app. This video can be shared on social media and your website, and used in promotional campaigns, showcasing the app's features and benefits.
Beta Release
Launch a beta version of your app to a selected group of users. This allows you to gather feedback, identify potential issues, and get testimonials that can be used to build trust among future users. What is more, you can involve beta testers in the development process, and therefore, you not only build the app that suits them best but also gain brand ambassadors in the long run.
Business-to-Business (B2B) Approach
If your app targets restaurants directly, focus on B2B strategies. Reach out to restaurant owners, offer demos, and showcase how your app can improve their business and enhance customer experience.
You can also look for partnerships even if you build an app for your own business only. You can join forces with local shops or attractions to help your customers to plan their activities easier!
Remember, a well-rounded marketing strategy that combines online and offline efforts will give your app the best chance of success!
What Affects Restaurant App Cost?
The cost of a restaurant app development can vary greatly depending on several key factors. First, the scope of work is a crucial determinant, and whether it's a comprehensive restaurant application or a simpler Minimum Viable Product (MVP). Then, how advanced features you opt for plays a significant role in determining the total cost. Naturally, more complex features will require more development time and resources, which will affect the final price.
Keep in mind that an accurate cost estimate is difficult due to these various factors. I even created a separate article that covers that topic, in which I explain all the nuances behind estimating projects. However, by carefully considering the scope, features and complexity of your restaurant app, your development team will help you get a reasonable cost estimate that best suits your project needs and budget.
How to Create a Restaurant App? Conclusions
The restaurant sector is growing, and as a result, the demand for restaurant apps is also on the rise. By having a restaurant app, you can gain a competitive edge since not many restaurants currently own it. This not only helps in engaging and building relationships with your loyal customers but also presents opportunities to attract new ones. When well-planned, a restaurant app can significantly impact the highly competitive food industry.
To create a restaurant app that would be successful, it is essential to thoroughly research your target audience. Tailor your app to meet the specific needs of your potential users. By providing a useful app that offers them various benefits, you can expect improved customer satisfaction, increased customer loyalty, and a better understanding of your audience.
If you have any questions about the development process, feel free to connect with me on LinkedIn or via email. I wish you the best of luck in your restaurant app development journey!
Gabriela is a lead project manager and keeps in mind that the crucial thing in project management is always seeing the business objectives. She takes care of clients' business outcomes, and that's why clients usually give her a lot of independence.
As a web developer, she understands teammates, which is an asset in project management. UX designer background is handy when clients ask her for advice or consult their app ideas. Having this knowledge, she can address their confusedness or curiosity.
Data analysis and research have no secrets from her as she's a physicist. She knows how to discover data patterns and dependencies, which brings additional value to her everyday work.